Bands and Ensembles Available
Greg Tivis Orchestra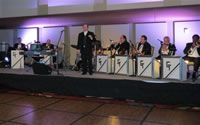 This great dance band is the top choice at local country clubs and dance societies for Big Band Ballroom Dancing. A seven piece ensemble takes you back in time playing from a repertoire of over a hundred big band hits and special arrangements. If you like slow dancing to "Stardust," waltzing to "Fascination," or swinging to "In the Mood," you'll love this band. All types of dance rhythms are covered, including the fox trot, swing, romantic ballads, rhumbas, chacha's, tango's, mambo's and, of course we are always happy to honor requests. Our repertoire includes the music of Glen Miller, the Dorsey brothers, Artie Shaw, Guy Lombardo, and many others.


Greg Tivis Jazz Band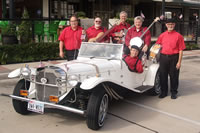 If Dixieland music is your thing, we've got you covered! This band of veteran musicians bring the sounds of old New Orleans back to life with their rousing renditions of favorites like "Sweet Georgia Brown," "Bourbon Street Parade," "Hello Dolly," "When the Saints Go Marhing In," and many, many more. As the feature band of the 1st Sunday Jazz Jam in downtown Bryan, Texas, for the last 4 years, this popular band has honed its skills while playing the authentic style of the early bands of the 1920's and 1930's. Perfect for special events, parties, parades and back yard BBQ's, this band brings the sounds of old Mardi Gras to you! And that's not all—we can liven up your church services, too! When they hear our swinging those old gospel favorites like "Just a Closer Walk," and "Down by the Riverside," local churches ask for us back again and again!


Greg Tivis Quartet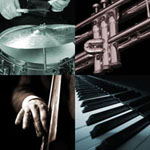 This ensemble features piano, guitar, bass and drums as well as vocals and trumpet solos by Greg Tivis. Playing jazz or dance music, the quartet is very flexible, and produces a very polished sound. The quartet is the most often chosen ensemble, and is very adaptable to a variety of circumstances.




Greg Tivis Trio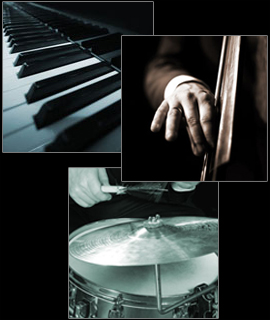 This winning combination of piano, bass and drums always produces great positive responses at every engagement. The trio is featured on the album "Piano +." When you hear these three men working in perfect harmony you'll see why the trio has been chosen to headline or accompany so many special events in the Brazos Valley. This group has also worked closely with the Arts Council and other major entertainment organizations such as OPAS.


Greg Tivis Duo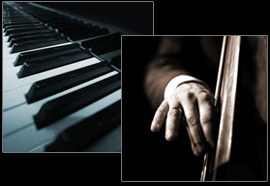 Pianist Greg Tivis and acoustic bassist Steve Carr create a rich full sound, perfect for intimate settings. Their skills and experience combine to form the perfect jazz duo.




Greg Tivis Solo Piano

This accomplished performer has been dazzling audiences with his virtuoso piano skills and repertoire of literally hundreds of songs for over twenty five years. His ability to "read" his audience comes from years of experience with every type of audience.








Whether it's formal wedding music, a jazz wedding reception, jazz brunch, ballroom dancing, a jazz concert, or simply elegant dinner music, Greg Tivis will take your occasion to the next level and leave your audience breathless.

To book Greg for your next event, go to our Contact page and send him a message, detailing your needs. He can take the hassle out of deciding what works best for your next private party.